Black bathroom – trends in bathroom design From the architect's perspective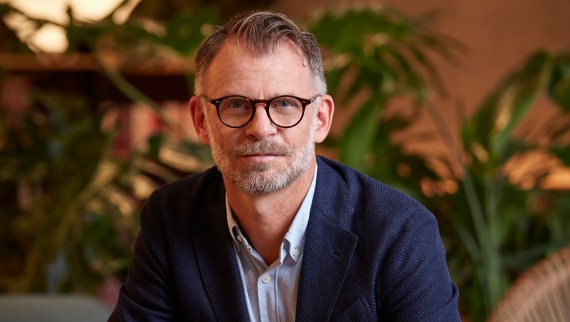 A bathroom doesn't always have to be white. According to the renowned Swiss architect Andrin Schweizer, black products can make a powerful statement when used sparingly and combined cleverly.
Black is extremely popular in interior design. As an architect, what is your opinion on this trend?
Andrin Schweizer: It's an open secret that architects love using black. The colour is associated with seriousness, elegance and sophistication. It is always used when you want to make a powerful, bold statement. In renovation, I find the colour a useful way of consciously differentiating between the old and the new. In my mind's eye, I'm seeing a sleek, black kitchen in an old farmhouse, for example.
Black is also seen in modern bathrooms, with black taps, furniture and accessories in demand. How can the colour be used to its full potential?
A few years ago, I wanted to design a bathroom with black taps and accessories for the first time. However, I wasn't able to because some of the products weren't available in black. Today, we have everything at our fingertips. Manufacturers offer many product lines in a range of different surfaces. I recommend using black sparingly and in a conscious way in order to not diminish its powerful impact. Better choose a few elements and emphasise the contrast in combination with the other items.
What impact do black bathroom taps or furniture have?
Black taps radiate a sense of self-confidence. They unequivocally state that a design lover lives here, one who has chosen something unconventional and wants to stand out from the crowd. Personally, I use black when I want to create an atmosphere typical of a luxury spa. The bathroom is the most intimate room in the house. Here, you're more uninhibited if the atmosphere in the room is darker and not every wrinkle on your body is highlighted.
Which colours and materials fit best in combination with black?
Black goes with everything – that's the fantastic thing about this colour. In the bathroom, I would tend not to combine dark materials with black taps. A certain contrast is important for me in order for them to achieve their full impact. I find contrasts an exciting proposition in general. I like combining black, matt surfaces with materials that have a lot of character, such as hand-glazed tiles that are all slightly different or natural stone with thick veins running through it. Then there is wood, of course, which belongs in any bathroom in my view.
How long do you think this trend will last?
That depends on how far into the future we are looking. Black taps and kitchen fronts will surely be in demand for the next couple of years. However, nothing lasts forever.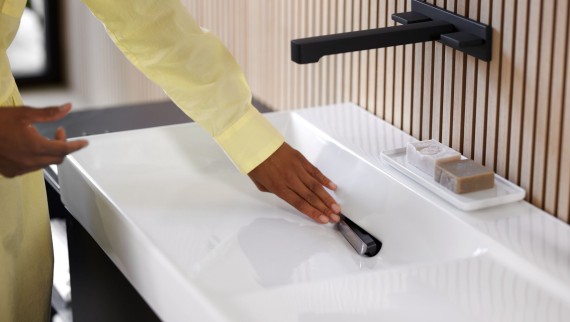 Easy to clean – including in black

With black products from Geberit, architects and designers can completely win over customers with an eye for good design. When developing the products, there is a focus on the corporate philosophy "Design Meets Function". This means that Geberit also ensures outstanding functionality in addition to elegant design. To do this, various coatings and finishing methods are tested on a range of different plastics and metals. Jörn Ikels, Head of Bathroom Systems, explains: "Only products that reliably meet our strict demands in terms of durability and easy cleaning in practice pass the test. You can be sure that all black products have been well thought out, are functional, long-lasting and are of the highest quality."
Does Geberit offer black products?
Geberit offers a wide range of black products, from black bathroom furniture such as washbasin cabinets, black taps, mirrors and mirror cabinets with black frames, all the way through to black actuator plates and bathroom accessories. Black products – shower channels, wall drains and drain covers – are also available for the shower area.
Overview of black Geberit products
Powerful statement: actuator plates in black matt look elegant and luxurious.
Black taps are in vogue – and will be for the next few years, according to architect Andrin Schweizer.
Shower channels in the trend colour complete the black look in the bathroom.