I spy with my little eye
A life without a bathroom mirror is almost unthinkable in this day and age. Shaving and applying make-up would be a bit of a challenge. That's why a suitable mirror is a key part of modern washplaces. But what kind of mirror is best? There are a couple of considerations that might help you make the right decision.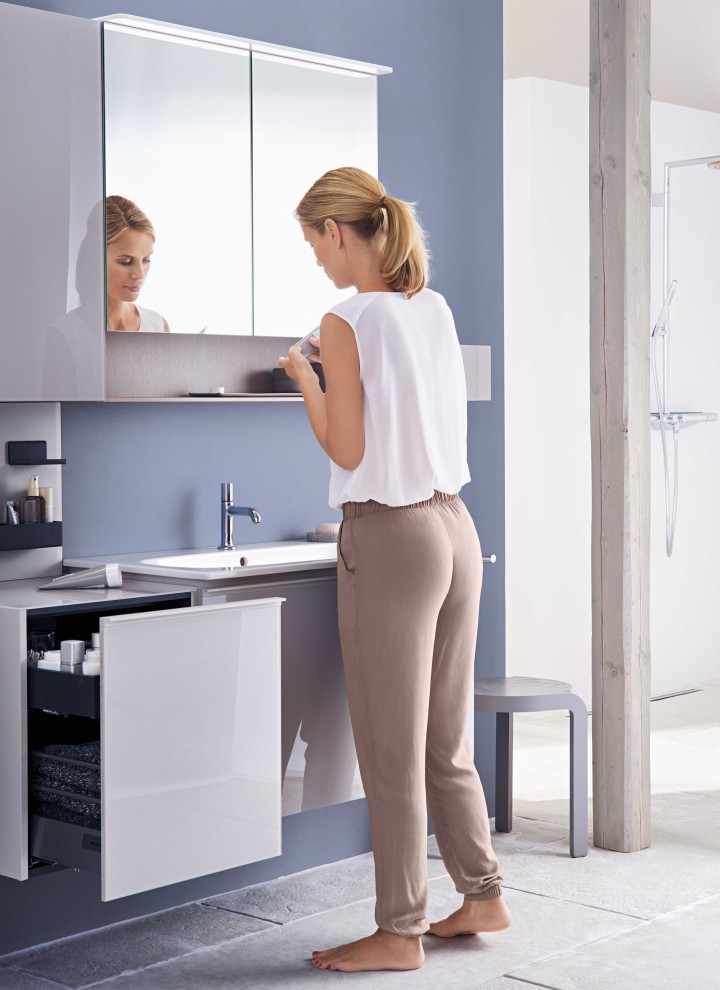 Not all mirrors are equal
There are several different types of mirrors to choose from. The basic distinction is between mirror surfaces and mirror cabinets. Which is best depends mainly on the size and the desired functions of the bathroom. In a guest bathroom, a mirror surface is often a better choice, while in a family bathroom, a mirror cabinet is preferable, since it provides much-needed storage space.
Where is all this stuff going to go?
That's not all that mirror cabinets offer, however. Many are fully mirrored on the inside. This means you can look in the mirror even when the door is open – or see yourself from behind. The interior of mirror cabinets can also be divided into sections, for example using freely movable shelves.
Please choose an information button in the image
And there was light
Lamps integrated in the mirror or mirror cabinet provide optimal illumination of the washing area and put the user in the right light when shaving or applying make-up. Depending on the lighting requirements, you can choose between different concepts. Indirect lighting, in which the LED strips or other light sources are mounted behind the often satinized glass, has an elegant effect. This creates a pleasant atmosphere and does not dazzle.
Additional benefits
Now you just have to decide which additional benefit you want. Be it integrated lighting, built-in sockets for hairdryers or electric toothbrushes, USB ports for charging mobile phones or integrated shaving or make-up mirrors – there are numerous options to choose from.
Quality pays off
It is important to know that moisture in the bathroom can be very damaging to the mirror and the electronics installed in it. Cheap goods are out of place here. It is also important to note that the electrical connections for sockets, USB ports and of course for the lighting are IP code 44. Thus they are protected against splash water.
Which bathroom is the right one for you?