Guest toilet: tips and ideas for guest bathroom
Tiny bathroom makeover Guest toilets and guest bathrooms tend to be short on space, which makes it all the more important to carefully consider design ideas and plans for a bathroom that is both functional and pleasing to the eye of guests and hosts alike!
Designing guest bathrooms
What turns a guest toilet into a guest bathroom? Probably the shower. This makes the topic of tiles all the more important in the planning stage. Apart from that, the same design principles apply.
Start by focusing on the floor and the walls, on the colours and the materials.
Guest bathroom ideas with wood
Wood is a stylish choice for the guest bathroom. Whether it's on the floor, wall panels or the bathroom furniture, wood is a natural product that is ideal for design flourishes and for giving the room a cosy feel. But be careful – wood used in a bathroom should always be treated to prevent moisture from penetrating it.
Modern guest toilet in white or black
Many options, no obligations! When it comes to colours, there are no limits in a guest toilet. But there are two principles that are helpful to apply in small spaces: light colours appear fresh and clean, dark shades create a homely cosiness.
For this reason, black and white are at the top of the wish list for hosts looking for a modern solution. Maybe also because these two colours work so well together, for example in tiling. Useful information: Large tiles work really well in small bathrooms and guest toilets, because they create visual depth in the room.
Washbasin ideas for guest bathrooms
Usually, the guest toilet is as wide as the door through which it is entered; the toilet itself is almost always located opposite. To get to it, you have to walk past the washbasin. So, it should be as space-saving as possible. Washbasins with wall- or side-mounted taps are ideal for this.
Different materials have a big effect, even in the smallest rooms.
Light colours create a friendly atmosphere and go really well with white ceramic appliances.
A tap on the side saves space.
What else is a must-have for the guest toilet?
The toilet and the washbasin with tap are the most essential elements in every guest toilet. But that would be to ignore bathroom furniture with storage space for everyday items.
This washbasin has a matching cabinet and a mirror cabinet. Models with integrated lighting provide the right light.
3 tips: how to plan your new guest toilet
Ideas are nice, but only with planning can these ideas become a reality. This is especially true when designing small guest bathrooms. Here are three tips on how best to make your guest bathroom ideas come true:
Tip 1: plan your guest toilet with a 3D bathroom planner
3D bathroom planners, such as the one from Geberit, make planning the guest WC easy in just three steps. Preparation takes a bit more work, for example measuring the room, placing doors and windows and considering the location of water and electricity connections. And a power supply is not just for the light switch; depending on your plans, the toilet may also need electricity, for example for an odour extraction unit. It's certainly worth considering, especially for guest toilets without windows.
Tip 2: position the toilet, washbasin and cabinets
Often, the limited space available in a guest toilet determines the layout of the toilet, washbasin and furniture for you. That's why less is more here, because a modern guest toilet can do without additional bathroom furniture with unused storage space.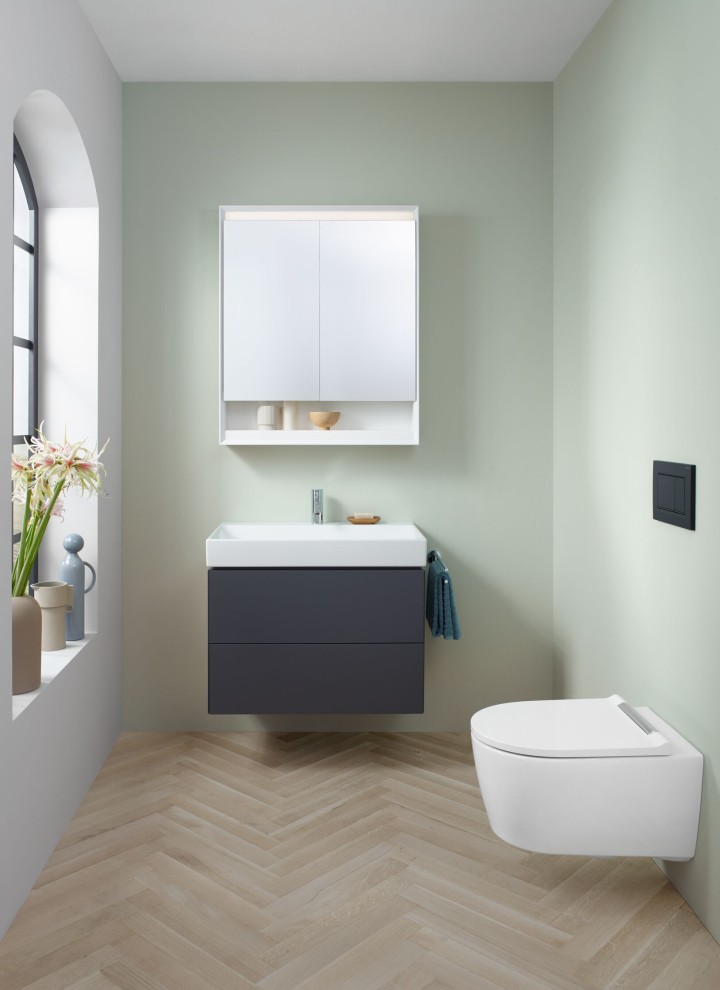 Tip 3: add practical extras to your guest toilet
You can argue about whether extras are necessary or merely practical, or if they even only serve decorative purposes. So the following checklist includes accessories as well as decoration ideas:
Accessories & useful products for the guest toilet

Toilet brush
Toilet paper holder
Small bin with lid
Soap dispenser
Guest towels

Cosmetic products (hand cream, cotton pads, etc.)
Clothes hook
Fragrances
Flowers/vases
Pictures
The consumables listed should be easy to find in the storage space in the bathroom and there should be enough of them there.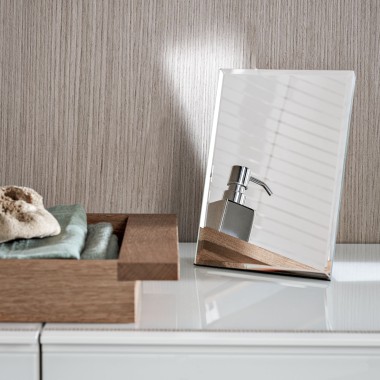 A soap dispenser and mirror are part of the basic equipment.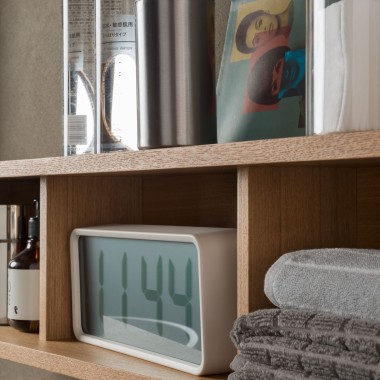 Individual accessories lend every guest bathroom a personal touch.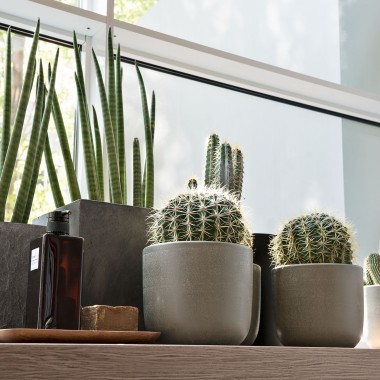 Real plants make a room refreshing.
Geberit solutions for small guest bathrooms
Geberit offers various smart and space-saving solutions for small guest bathrooms. In addition to space-saving furniture and solutions for more storage space, this also includes WCs with a shorter projection for more freedom of movement.
If you're interested, take a closer look at the compact WC versions in Geberit's iCon, Renova and Smyle bathroom series.
Space-saving furniture for small bathrooms
Even narrow and particularly small washbasins with reduced depth or side storage have perfectly fitting cabinet units with plenty of storage space at Geberit. For example, the versatile and modular bathroom furniture range from Geberit iCon or Geberit ONE, which is popular due to its functional design. To save space, even the mirror cabinet with integrated lighting can be built into the wall.
Clever detail solutions for more storage space in the guest bathroom
If you opt for a space-saving P-trap for the washbasin or have the trap disappear behind the wall, you can save the recess in the drawer of the washbasin cabinet for additional storage space.
This also makes it easier to use organiser boxes in the drawers. They help give you an overview inside the furniture to make it easier to find the different objects. Mirror cabinets with storage boxes inside and adjustable shelves also provide additional storage space.
Every toilet also has a matching magnetic board. Magnetic boards are equipped with three storage boxes in different sizes and are available in four different colours.
Storage space is tight in the guest bathroom, so clever solutions are needed.
Organiser boxes in the drawers or mirror cabinets keep everyday items close at hand.
A wall shelf offers space for bathroom items or decoration.