Geberit actuator plates for WCs Choice is important
It's not just any bathroom, it's your bathroom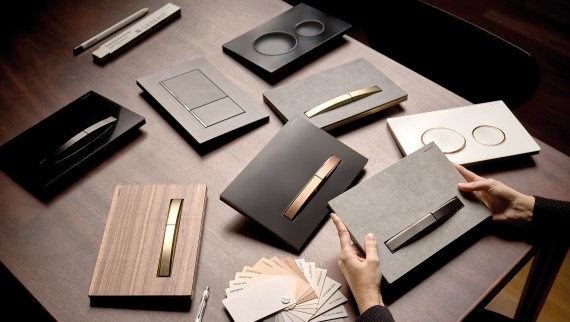 You select the tiles that reflect your style. You accept no compromises when it comes to WC ceramic appliances and washbasin taps. Moreover, because making the right choice is important, at Geberit you will find the right actuator plate for the WC to give your bathroom the crowning touch and to pamper you with comfort functions.
Perfect form meets perfect function
Geberit actuator plates don't just look great, they also feature versatile functions. This includes the integrated odour extraction unit which is suitable with many Geberit actuator plates of the Sigma series.
Everything with a system – Geberit flushing systems
Geberit provides reliable, discreet behind-the-wall solutions that ensure perfect functionality, outstanding convenience and maximum durability. The actuator plates are the only part of the concealed cistern the user can see. A variety of flushing systems are available, making it possible to find the right product for a particular application or special structural conditions. To make it easier to match up the Geberit actuator plates with the appropriate cisterns, they are each given a "family name" that they share with the cisterns: Sigma, Omega or Delta.
Geberit Sigma flushing system
Geberit Omega flushing system
Geberit Alpha flushing system
All technical Information about Geberit Actuator Plates and Flush Controls can be found in the Online Catalog