Fresh air for everyone
Everyone knows that certain trips to the bathroom leave unpleasant odours which are particularly unwelcome. But we have a few tricks up our sleeve to get rid of them so that no one is any the wiser.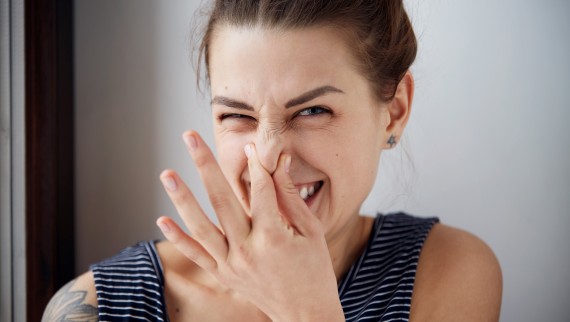 Why are there odours?
It is completely normal for odours to develop after using the toilet. This is due to gases that are released after a bowel movement. Intestinal bacteria produce these gases when digesting food. Because going to the toilet and any resulting odours are such an uncomfortable subject, people have always resorted to different tricks to neutralise them. But what actually works?
Four aids against odours in the bathroom
Everyone has probably discovered quite a few of their own tricks over time, but we believe the following solutions are the most effective.
Variant 1: Fresh air
Opening the window and airing out the bathroom for a good few minutes has established itself as a quick and effective solution. However, due to ecological reasons, the window should only be opened for short periods of time. This is especially important during the winter months, as keeping the windows open means that energy is wasted unnecessarily on heating. It is generally recommended to regularly ventilate your bathroom to prevent mould from forming due to the high levels of humidity.
Variant 2: Bathroom fan
In the case of bathrooms without windows, a bathroom ventilation unit built in as standard helps to eliminate unpleasant odours and to quickly ventilate the bathroom after a shower or a bath. The fan's power output determines how quickly the air in the bathroom is fresh again.
Variant 3: Masking odours for a short time
One way to mask unpleasant odours in the bathroom is to light a match. The sulphur contained in matches temporarily masks any odours caused by going to the toilet but is not able to eliminate them completely. This category of aids also includes air fresheners, room fragrances or oils. But with these kinds of sprays, there is always the risk of using too much and obtaining the opposite but equally unpleasant effect. After all, who likes walking into a small, confined bathroom which smells as if someone has just sprayed on an entire bottle of perfume?
Variant 4: Modern technology
The most innovative and effective option is an odour extraction module that quickly extracts odours right where they originate, before they spread throughout the room. Sound familiar? Of course it does! When you're in the kitchen, you intuitively switch on the extractor fan as soon as you start cooking. In the bathroom, the options range from an odour extraction unit integrated in the ceramic appliance to a module in the cistern such as an integrated freshness filter.
Which bathroom is the right one for you?