Aspects to consider for a barrier-free bathroom Insights from a person with quadriplegia
How important is an obstacle-free bathroom in the everyday life of a person in a wheelchair? What should you look out for when building or renovating the bathroom? And what are the top tips to bear in mind when installing WCs, washbasin areas, showers and more in this space? It goes without saying that people directly affected by barrier-free bathroom issues are best placed to answer these questions, so we caught up with Peter Roos at the Swiss Paraplegic Centre (SPC) in Nottwil, Switzerland, to find out more. 38-year-old Peter was involved in an accident that left him in a wheelchair, and he agreed to talk to us about a very personal subject: the bathroom.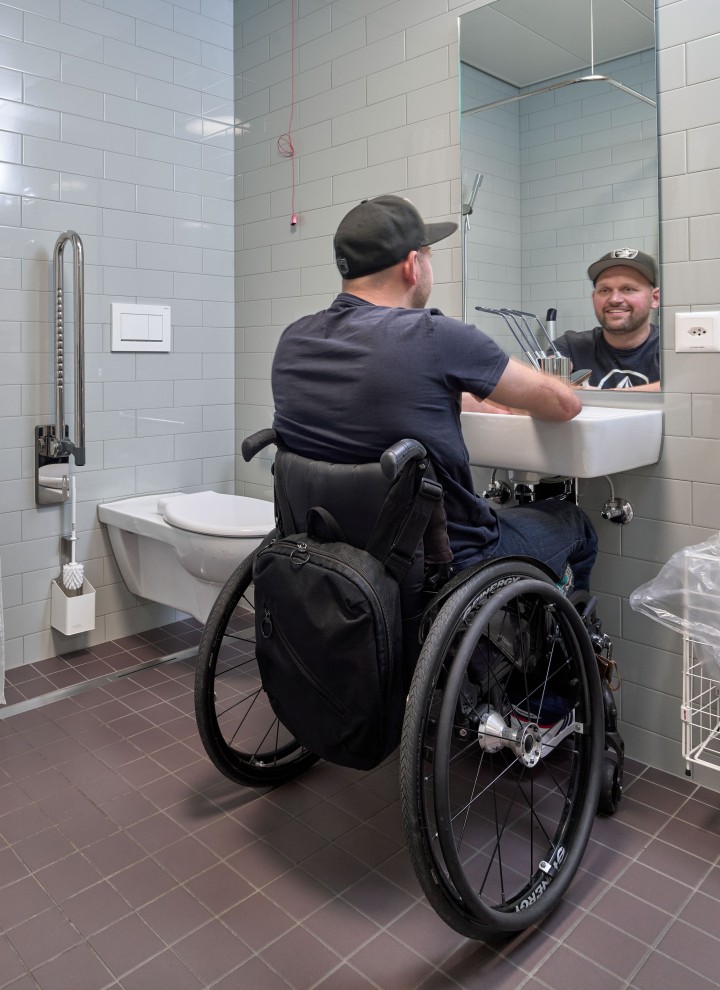 How important is the bathroom to you?
Well it certainly plays a much bigger role in my life than it used to! Since becoming quadriplegic, I am always dependent on outside help, so it is all the more important to me to be able to do as much as I can on my own – at least when it comes to the bathroom. This is where I should point out that I can no longer control my own bowel or bladder movements. The process of emptying the bowels is something that has to be re-learned and practised in rehab, and it can easily take 30 to 60 minutes. This is why good lighting, plenty of space and suitable ventilation are a real plus in the bathroom.
Do you have a normal toilet at home?
I have a wall-hung WC ceramic appliance with a large projection. I can wheel my chair right up to it and then move myself over to the WC seat. Something that's less standard for me is the toilet lid: I need something to give me support like a seat back, as I have no core stability. If the lid falls too far back because of the large projection of the ceramic, which is sometimes the case in hotels, I have to stuff a cushion behind the lid so that I can lean against it.
What does the ideal washbasin area look like to you?
The most important thing for me is to be able to wheel my chair under the washbasin until my stomach touches the edge, as this is the only way I have enough stability to do anything. This also means the trap has to be positioned out of the way and, depending on the construction type, it would ideally be insulated so I don't end up burning my legs. This has actually happened to me before, because the lack of feeling in my legs means I have no way of knowing when something gets too hot! Another bonus for me is when the mirror comes down as close to the washbasin as possible. There is a tendency for the tap to get in the way of the mirror a bit here, and you generally end up with splashes on the glass, but it doesn't take much to wipe these away. Since I don't have much strength in my hands, I often find it difficult to turn on a normal tap. This is where the best option for me is a single-lever mixer that is long enough for me to be able to reach it.
And what about the shower?
The shower should be designed in a way that allows me to wheel my chair straight in and move myself over to the seat. It's also a bonus if there is enough room to turn my wheelchair around once I'm in, but that's more of a luxury than a necessity. I've had my shower at home set up like this, but it needs at least eight square metres of space in the bathroom.
Do you have any other tips for an obstacle-free bathroom?
An element that mustn't be overlooked is the bathroom door, as it's not simply a question of ensuring sufficient width. I have a sliding door installed in my house, and it's by far the most convenient option. The door leaf of a normal door not only takes up a lot of space, but I also have to wheel my chair around it every time.
What do you do when you are not at home?
There's an app I can use to find hotels and restaurants with barrier-free facilities, but I usually call ahead and confirm anyway. Even then, though, you often still find that the facilities aren't quite as promised, so you might arrive to discover that the accessible toilet is actually being used as a storage room, for example. I also travel abroad, including with the national wheelchair rugby team. We have competed in tournaments all over the world and I have seen my fair share of hotels. It's generally fine as long as you prepare properly, and sometimes you just have to improvise a little.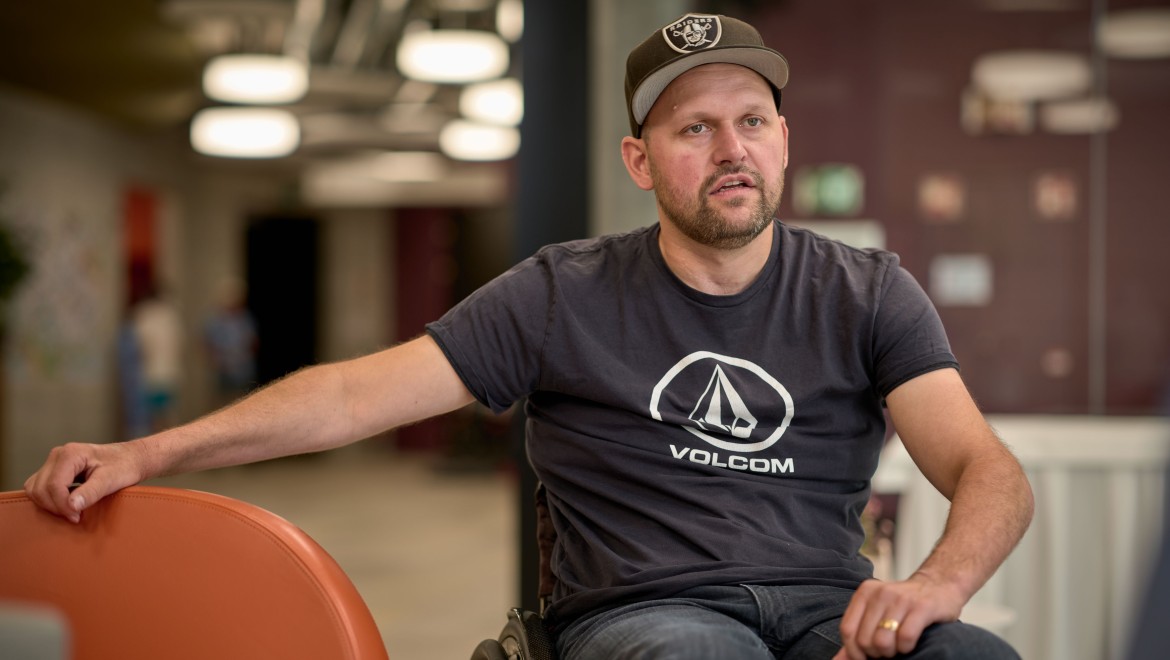 About Peter Ross

Thirteen years ago, Peter Roos was injured in a swimming accident that left him instantly paralysed from the neck down. He essentially had to start his life all over again. Fast-forward to today and he can now handle office work, play with his children, drive a car, and not just play wheelchair rugby, but represent the national team no less. Take a look at our checklist for additional tips on planning a barrier-free bathroom.
Always up to date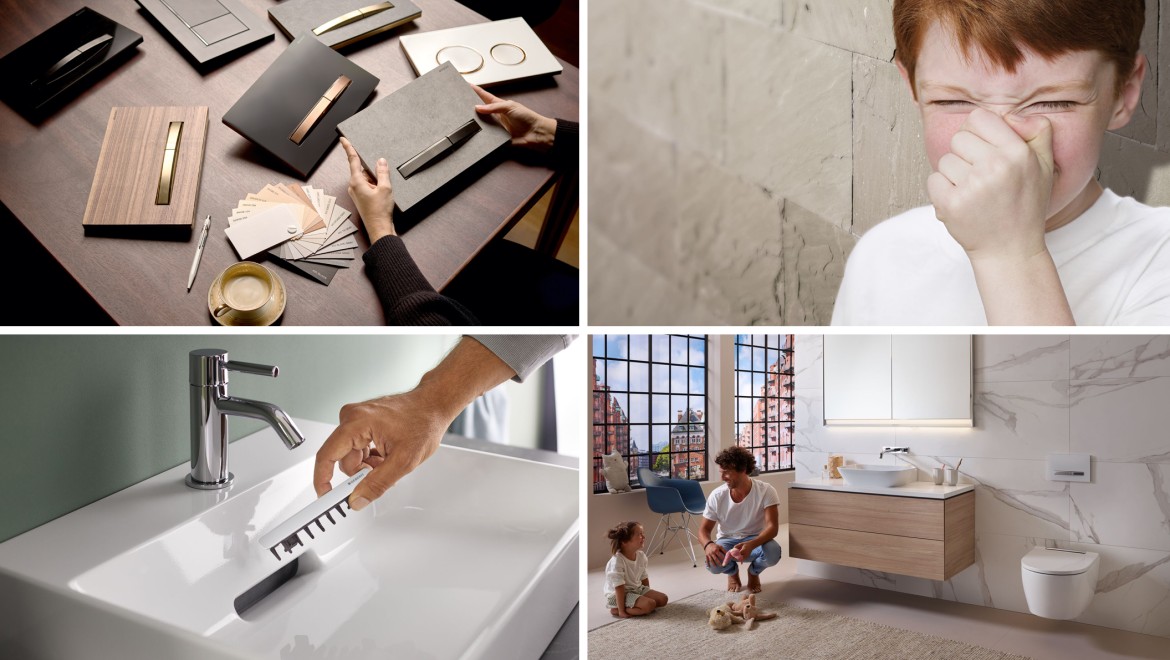 Register now for our newsletter and never miss out on a new product, event or tip for the bathroom. Stay up to date with the latest products, key dates and topics including cleanliness, space-saving, comfort, design, user-friendliness and barrier-free bathrooms.
Which bathroom is the right one for you?