Showering Snoopy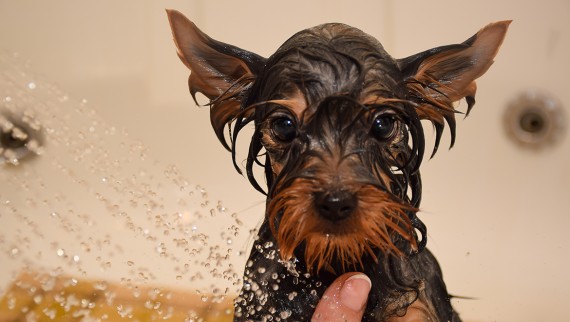 As the dog owners among you know only too well, if your four-legged friend rolls around happily on the meadow or at the side of the path, in most cases, they will need a pretty thorough clean. The easiest way to remove mud and dirt is by putting them in the bathtub or under the shower. But these options are not always popular with your pooch – sometimes, they will try to run away to avoid getting wet.
For large and small animals alike, the bathtub is the best place to wash your dog in peace. Your dog cannot escape so easily from the bathtub, so you will have no trouble rinsing them down. However, if your dog is larger and heavier than most, it will be virtually impossible to heave your pooch in and out of the bathtub safely. If your soggy dog then lurches out of the bathtub, there is a real risk of injury for both dog and human.
In this case, it is safer to place your muddy mutt in the shower. This is easiest when you have a floor-even shower because no edges get in the way, providing easy access. All that's left for you to do is to switch the water on.
To prevent clogged drains, coarse dirt such as leaves should be removed before you start to clean your dog. A hair trap shields the drain from blades of grass and dog hairs, of course. The integrated comb insert in the Geberit shower channel stops the drain from clogging up. So now nothing stands in the way of your pet enjoying their bath time.
Which bathroom is the right one for you?